Temporary COVID Recreational Programming
April 1st, 2021 Update:

Due to the April 1st COVID-19 Response announcement from the Provincial government, we are required to cancel our current programming. Our re-opening will be based on what colour zone Simcoe-Muskoka is assigned upon the end of the Lockdown.

For those who have pre-registered for our Red Zone Single Classes, please check your email for more information.
Tuesday
Tumble Tots/Kindergym – Ages 1 – 5
All Kindergym and Tumble Tots participants MUST be accompanied by an adult on a 1:1 ratio.
9:30 am – 10:30 am
11:00 am – 12:00 pm
Ages 5 & up Recreational (Boys and Girls)
Wednesday
Ages 5 & up Recreational (Boys and Girls)
NO TRAMPOLINE
Friday
Tumble tots/Kindergym – Ages 1 – 5
All Kindergym and Tumble Tots participants MUST be accompanied by an adult on a 1:1 ratio.
9:00 am – 10:00 am
10:30 am – 11:30 am
Sunday
Ages 5 & up Recreational (Boys and Girls)
12:45 pm – 1:45 pm
2:00 pm – 3:00 pm
Tumble Tots/Kindergym – Ages 1 – 5
*** All Kindergym and Tumble Tots participants MUST be accompanied by an adult on a 1:1 ratio.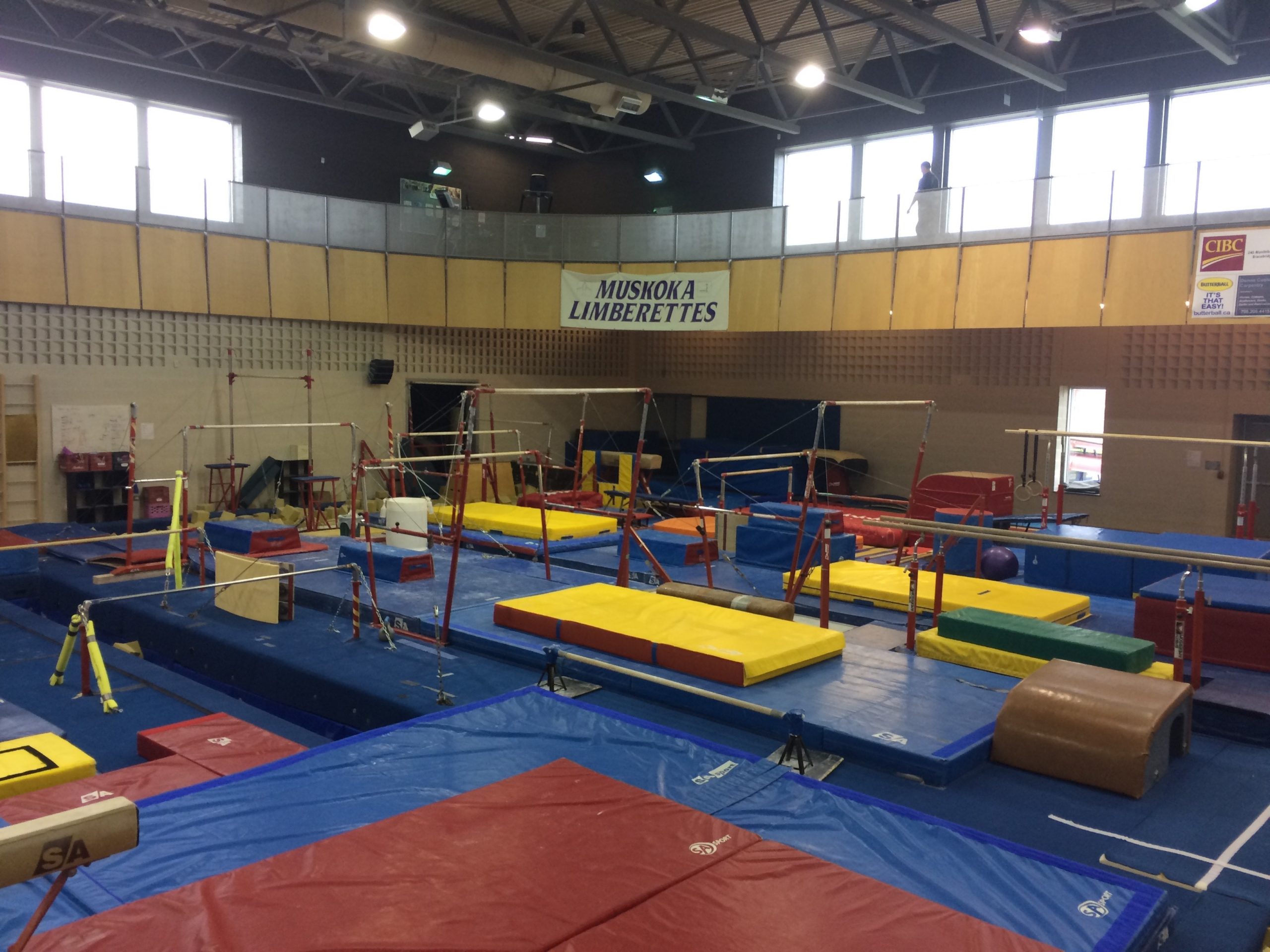 COVID Recreational Protocols and Procedures
Arrival
Currently, we do not have access to the Sportsplex. Our entry/exit doors are located at the back of the building, across from the playground. We recommend that you park at the far end of the lot (closet to Douglas Drive) and follow the service road on foot to our door. PLEASE DO NOT DRIVE VEHICLES ON THE SERVICE ROAD AS IT MUST REMAIN CLEAR FOR EMERGENCY VEHICLES.
Entrance to the facility for the start of each program will begin 15 minutes prior to the class. Please line up at the door, following physical distancing guidelines (orange lines on sidewalk). Each child will be checked in at the door by their coach. They will then sit in their assigned seat until the class begins.
Masks are now required to be worn by all those in the gym over the age of two. Participants will wear their masks while travelling in the gym and while listening to instructions. They may be removed as participants begin each event. Masks must be always worn by coaches, staff, and parents/guardians who accompany Tumble tot/Kindergym participants.
We ask that children come dressed for their class, when possible, as we have only one washroom available for use.
There is limited space for storage – participants will have access to one small cubby and a coat rack. Please limit the number of personal items that are brought to class.
A reminder that only participants are allowed access to the facility. Parents /guardians are not allowed in the facility and a viewing area is not available at this time.
For the Tumble tots/Kindergym classes, we require an adult to accompany each child. Each adult is required to wear a mask when inside the building. They are also to complete a waiver/declaration prior to their first class. This form is available on our website, can be emailed to you as requested, or located at our entrance upon arrival. Parents/guardians must also wash their hands upon entry and stay with their child at their assigned seat prior to the start of class.
Class time
At the start of class, the coach will have the participants line up with proper spacing and lead the group into the gym. Classes for this session will have fewer events (Vault, Bars, Beam, Floor, Trampoline) each week. The rotation schedule will alternate each class between "Week 1" and "Week 2", so that all events will be covered.
At the conclusion of each event, participants will wash their hands before heading off to the next event. All equipment used will be cleaned before the next group arrives.
Participants are asked to bring their own water bottle with them. The fountain is not available, but we do have a sink if a refill is required.
Please note that spotting will only be used in situations where safety is a concern. Progressive stations will be set up, so that the participants can work on learning and improving new skills without hands-on assistance.
For our recreational and trampoline classes, we will be following the CANGYM level system as much as possible. Reports will be handed out at the end of the session.
All foam pits will be off-limits to all our recreational programs at this time.
We will be following the physical distancing guidelines inside the gym.
Dismissal
At the end of class, students will be brought to the backroom where they will wash their hands, collect their belongings, and return to their seat until a parent/guardian arrives to pick them up.
Parents/guardians are asked to wait on the orange lines, as with arrival. The coach will have your child put on their shoes and will then send them outside to you.
Please note that the guidelines may change as the situation changes. Any updates to our protocols will be emailed to you.