Muskoka Limberettes offers gymnastics classes for all ages, genders, and abilities. We aim to provide inclusive programs that will help children grow and progress in the sport of gymnastics and set them up for success in all other physical endeavors. Our certified coaches offer a fun, positive, and progressive atmosphere for every athlete at every level!
Due to COVID-19 and heightened cleaning protocols, class availability is limited and some classes are shorter than normal. Please review the COVID-19 programming information below and select the class you're interested in for further details.
Winter Session #1 2020
Runs for 8 weeks from Monday November 30th to Saturday December 19th (3 weeks) and Monday January 4th to Saturday February 6th (5 weeks)
There are NO CLASSES between December 20th to January 3rd.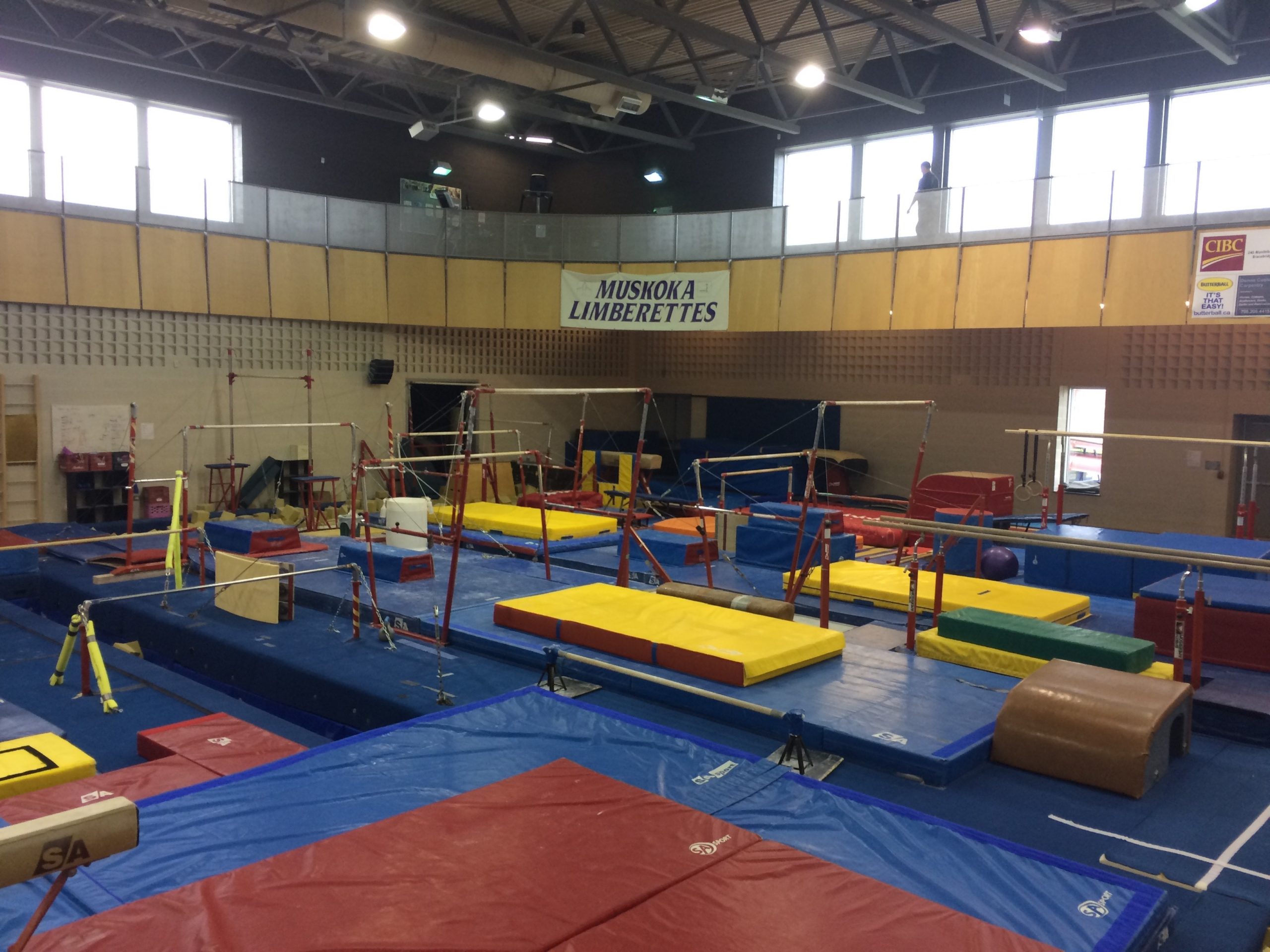 Winter Session #1 2020 – COVID-19 Related Programming Information
All participants must enter through our outside entrance across from the playground.
There is no access to the Bracebridge Sportsplex from the Muskoka Limberettes Gymnastics Club.
New waivers and declarations are required for all participants, including adults accompanying children for Tumble Tots and Kindergym classes.
Look for the orange lines on the sidewalk to follow physical distancing protocols when signing in and picking up your children.
ALL participants under the age of 5 will require parent accompaniment at a 1:1 ratio.
Only parents of participants under the age of 5 will be granted access to the facility. 
Entrance to the facility will be granted a maximum of 15 minutes prior to the start of the class.
Prior to entry, parents must complete the COVID-19 self-assessment log for their child (and themselves if participating in Kindergym/Tumble Tot programs)
Upon entry, all participants will enter facility, remove their shoes, and wash their hands. Physical distancing must always be adhered to during these procedures – there are lines on the floor to guide them.
Once participants' hands are washed, they may put their belongings in their assigned cubby, then proceed to their assigned seat.
Any parents accompanying their child(ren) for Tumble Tots or Kindergym classes must wear a mask while inside the facility.
Coaches will assign participants a station at each event. The participants will rotate through each station at the direction of the coach.
At the completion of each station, all participants must wash their hands. They will then move to their next station at the direction of their coach.
At the completion of the class, participants will be instructed to wash their hands and return to their assigned spot. When a parent arrives for pick-up, the participant will be dismissed to collect their things from their cubby and then exit.
As there is a limited amount of time between classes available for cleaning and sanitizing, we ask that parents be on time to pick up their children. Parents with their children in class are asked to exit the facility in a timely fashion.
Please note that at this time, only spotting for the purpose of safety is allowed. This is at the direction of the Government of Ontario. Stations will be set up to guide participants in progressions of skills